Connect with your social network account
Forum rules
This forum is for Producers to announce and discuss their new releases. Any discussion for future releases or script ideas should be done in the Superheroine Lounge
New BatTracy video now available!
Topless Tickle Torture
BatTracy is on the trails of Mistress Mayhem. She heard that the evil villainess has a new sidekick and wants to put a stop to her evil ways. Unfortunately, while BatTracy is investigating the area outside of Mayhem's lair, she is surprised by a henchman and gets a bonk to the head. The henchman throws the heroine over his shoulder and carries her inside. He lays her down on the couch and can not resist caressing her sexy body. When BatTracy wakes up she is in Mayhem's lair and is suspended with her arms above head and eventually gaged with tape over her mouth. Mistress Mayhem and her new redheaded sidekick are there to torment her. The two villainesses tickle the bat girl and spank her innocent bottom. Once they have their fill of fun they put BatTracy to sleep. When the heorine wakes up again she is tied down to a table laying flat on her back and is topless. Poor BatTracy is mortified and struggles the best she can, but she can not get free. The evil girls torment me her with more tickles and spanks until they get too turned on to continue. They finally give BatTracy some rest when they start playing with each other.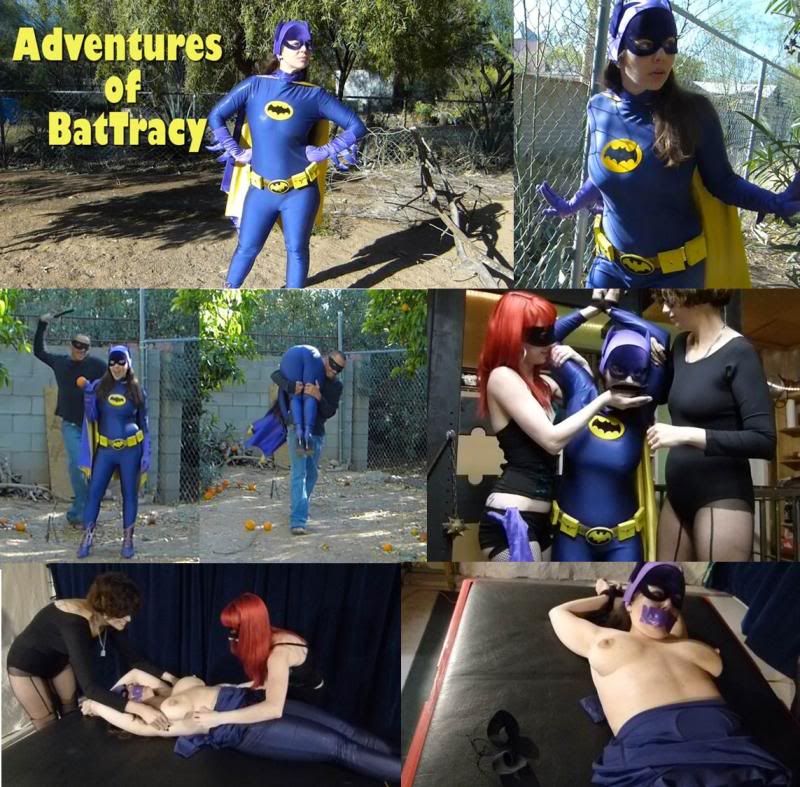 This video features Ella Knight (redhead) and Cherry Spice (brunette)! They are both available for customs! Please email me for more details ----> tracythetiger@gmail.com
---
Wow!
Last edited by
Mr. X
on Sat Apr 20, 2013 4:41 pm, edited 1 time in total.

http://www.dangerbabecentral.com
100% Mr. X
Twitter
https://twitter.com/mrxdbc
---
Experienced Member

Posts: 92
Joined: Sat Jun 30, 2012 11:40 am
Reputation:

4

Location: United Kingdom
Great to see BatTracy back in action!
---
Bat Tracy is excellent! however......I would like the vid better without the tickling. A bit more serious. I am also curious why you haven't done a Pattern Cutter vid? that would be worth buying!
---
Millenium Member

Posts: 1244
Joined: Fri Aug 21, 2009 2:59 pm
Reputation:

20

Location: baltimre, md
looks great!!1 LOVE IT!! I agree....if you did a pattern cutter = instant top seller!
---
Got the video a few days ago. As usual, a fantastic effort from you Tracy. You are just superb as Batgirl.
---
Ok, that's a new one on me. What is a pattern cutter?
---
Millenium Member

Posts: 1906
Joined: Sat Apr 09, 2011 12:26 pm
Reputation:

201

Location: Land of No Hope and Past Glories
How strange are the ways of the gods ...........and how cruel.
---
Nice job Tally! If you want.....I will post a link for the episode.
---
---
Return to "Latest Superheroine Releases"
Who is online
Users browsing this forum: awedward, aydina, bombardier, decendingskulls, Dogfish, emycapa91, GeMeZi, Google [Bot], Helpless, IMSancho, krypto, luther, powerjoe, punner55, RiceRocketRod, Visitor and 68 guests