### This thread has been repurposed on the 21st of November 2018 and will be showing up and coming screencap work - previews - works in progress - abandoned projects etc etc. Images may be switched in and out as time goes or when works move from being in progress and go for final release ###
============== CURRENT STORY!! HOPE YOU LIKE IT ==============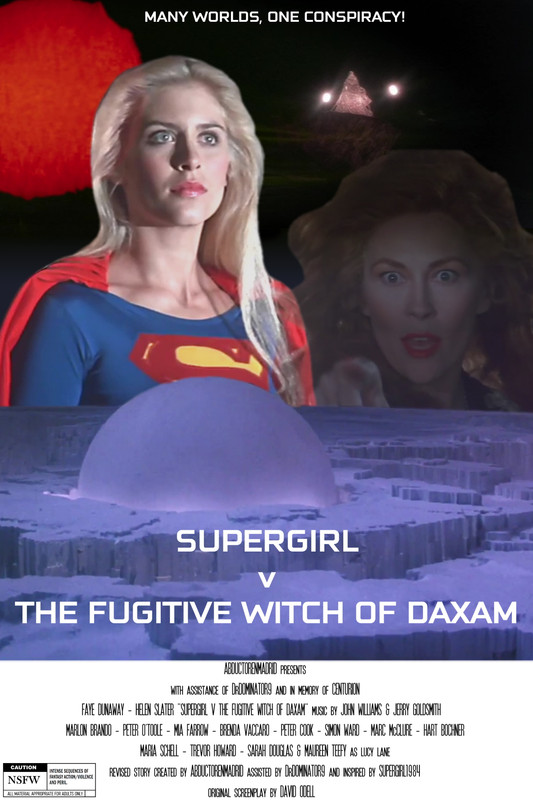 ============== BEHIND THE SCENES - DON'T FORCE IT ==============
Sometimes people comment on my shot selection (usually nicely). Making the scene work is about having dialogue and expression match up and if they don't then some immersion is lost. If I am lucky I can get exactly what I want out of a scene BUT every now and then a little bit of luck happens which makes things better than planned. Take this scene for example which I then converted into a comic -
MB's expressiveness is priceless throughout and I mischievously alter the scene for the comic dominatrix to have wicked fun with Kara. Cat is all overpowering as usual, Kara submissive as hell, and eventually she ends up in the chair. It's meant to be all forced and dark and ... well dammit, in the chair Kara is like .... 1)Ummm...thinking ... 2)"Told you so" .... 3)"Well actually...!" ... 4) But, ok, this look is something I can work with but it doesn't last for long.
And it is at that moment that I realise something. I thought "Hey, I dont have to be mean to Kara all the time - she can actually enjoy what Cat does, kinky as it is." And so, having boxed my self in not having any stressed-out forced-orgasm looking looks from Kara in the scene I find an escape route; pleasure, fun, and a joke ending ... and I felt human again. By not forcing a meaner ending on Kara's uncooperative expressions and going with the softer ending it is much more immersive I think but ... what do you guys say? The full mini episode can be found here -
https://www.superheroineforum.com/forum ... 25&t=26463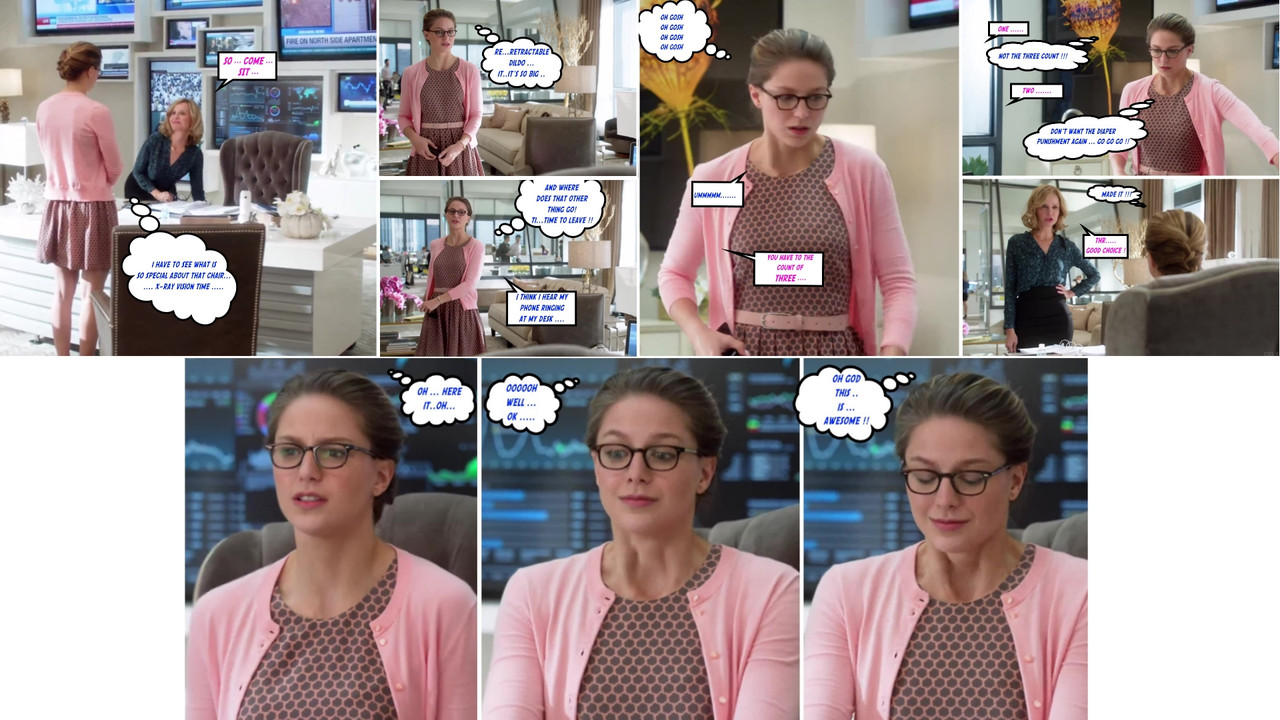 ============== BEHIND THE SCENES - HOW DOES (S)HE DO IT? ==============
Every now 'n' then someone says "I don't know how you do it..." regarding the comics. I guess they know I use a paint program so they are probably referring more to how I make the story flow with the images. So, here is a little about that, hopefully I won't ruin anything by showing you what goes on behind the curtains.
Firstly - I scout for a situation that could be useful at screencapped.net or from memory of a scene in the show. My comics are currently in three branches. I have the SG V Luthor (dark laboratory experimentation on Supergirl), Kara and Cat (a gentler mistress/slave affair with mainly Cat and Kara Danvers at Catco), and I am also playing with "What If...?", one off peril scenarios which may feature random foes. So, knowing I have maybe 3 ways to use anything I find, I can find a home for any useful situations.
My very first stab at things was during season 1 after seeing a pretty tense scene between Max Lord and Supergirl. The scene, for reference is here;
In the scene there were a few key elements I felt I could turn into a more ... sexually perilous moment. But, it all happens out of order! The scene runs in red number order (image below).
Red
1) SGs Confident Arrival - Max, jacket on.
2) SG Power Pose - Max, jacket on.
3) SG - Angry Accusations
4) ML rebuttal and then jacket comes off.
5) ML circles SG - great "worried" expressions by MB - ML jacket off.
6) ML/SG great personal space invasion by ML.
7) SG lashes out after some great and nerve touching insight by ML
8) SG essentially flees.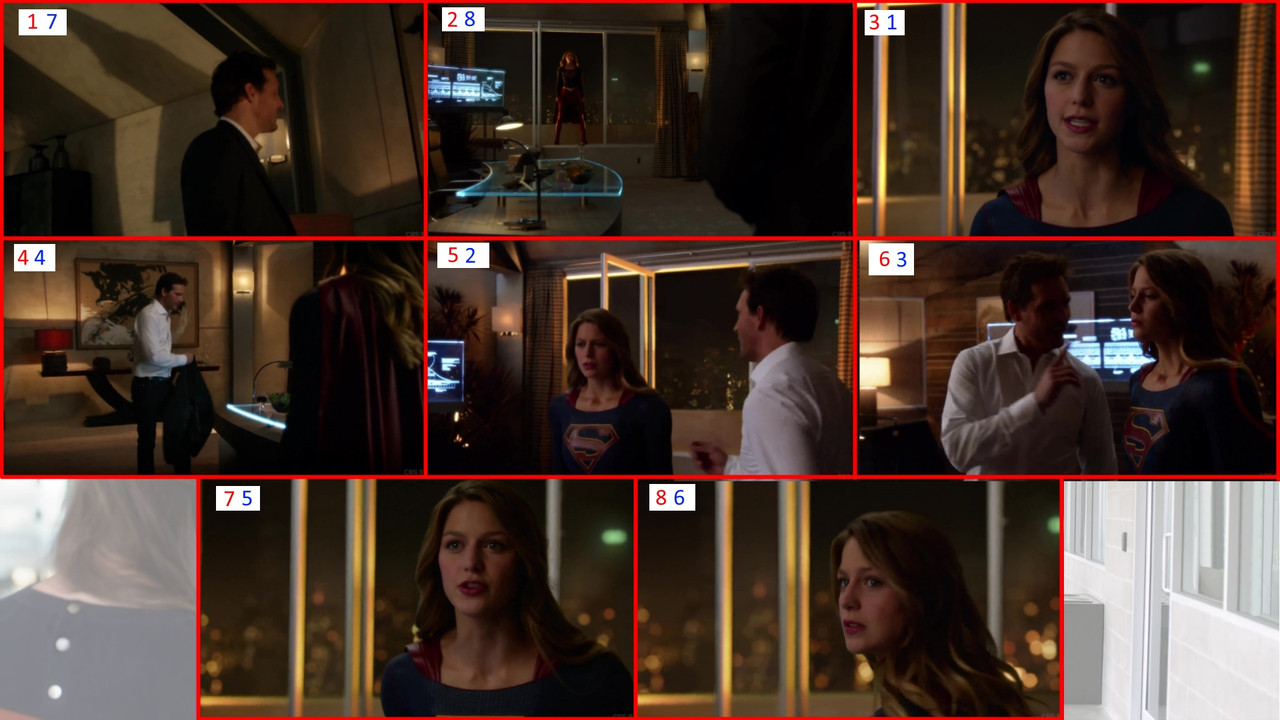 I knew in my own mind that the KEY THING to not breaking the immersion of the scene was to not have images of Max in his jacket one moment, then only in his shirt the next. That would drive me MAD if I was reading the comic and perhaps it would distract you guys too. So, what can I do? Well, LUCKILY the moment he puts down his jacket is done on screen. Using that I can create the illusion he is picking it up instead. Now that I have that division established I can re-work the scene. The circling moment seems to be key to making a story and MBs expressive performance helps show the change from SG thinking she is in control one moment, to not being in control the next and so I build off of that.
Blue
1) SG Angry demand for information.
2) ML's denial and explanation of what he knows about SG.
3) Personal space invasion - blackmail. ML knows he is on top. SGs expressions easily match against the plot.
4) Jacket picked up - I show this so later the later jacket-on images make sense.
5) MBs expressions match the idea of her resistance to blackmail but not having any choice.
6) MB follows orders to go stand in the window. Her mild expression of distress easily works here.
7) A jacket-on ML goes to get a victory drink, SGs shadow confirming she is obeying him, standing in the window.
8) That once confident arrival pose now becomes something more sexual.
Sure there was more to it than just this, but, basically the whole story idea was built around Max's jacket. If he had not taken it off when he did I might never have had the inspiration to make the comic version work! The comic can be found here -
https://www.superheroineforum.com/forum ... 25&t=26176
============== PREVIEWS OF STUFF TO COME ==============
This is a shot from a future Kara & Cat episode. God I've missed doing these but I have to finish SG V Luthor first! There will be other little Kara and Cat episodes to come before this one but when I found source material for this I just had to do it out of order! Here is part of the opening scene and Kara seems to be getting some ultrasound interference at work ... but who is responsible? This episode has 73 frames!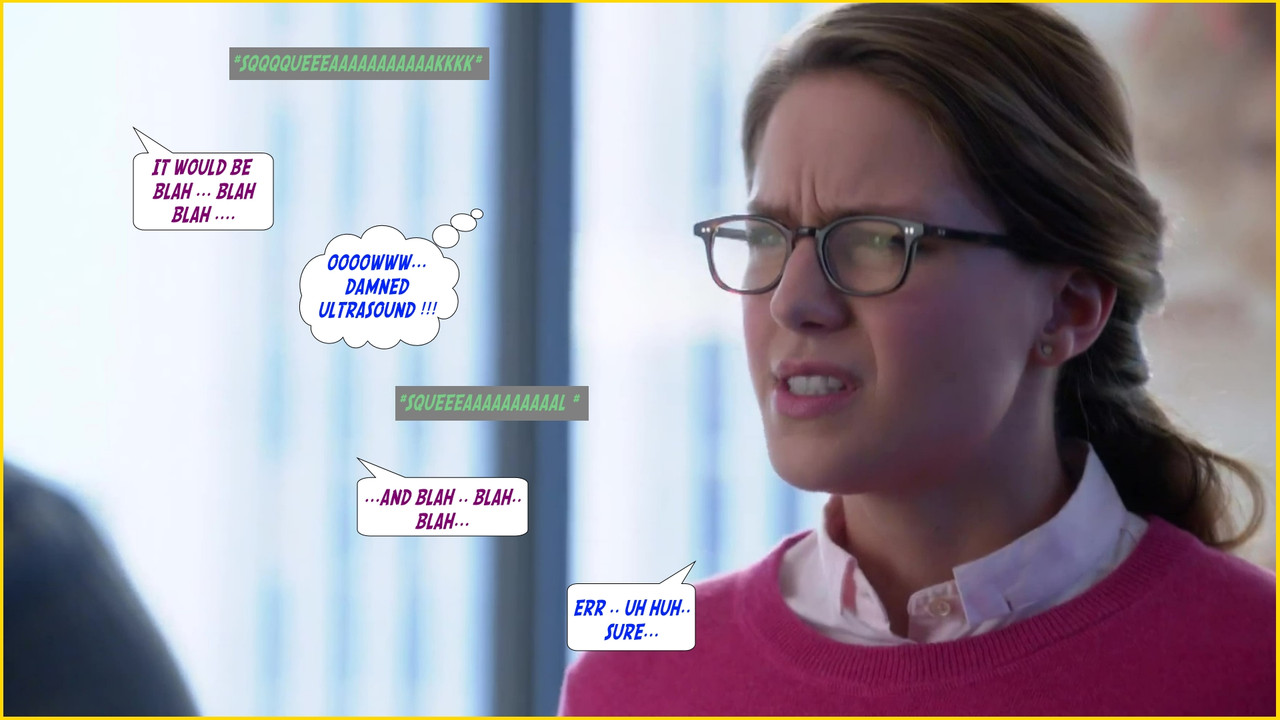 ============== FOR CONSIDERATION ==============
This was the opening phase of a scene. The latter parts are
not shown here
- but were deemed
TOO HARSH
for your sensitive eyes by my moral compass and proof reader, DrDominator9 !! I have this on the back burner but may well think of a way to expand it - but for now it does not fit in my plans ...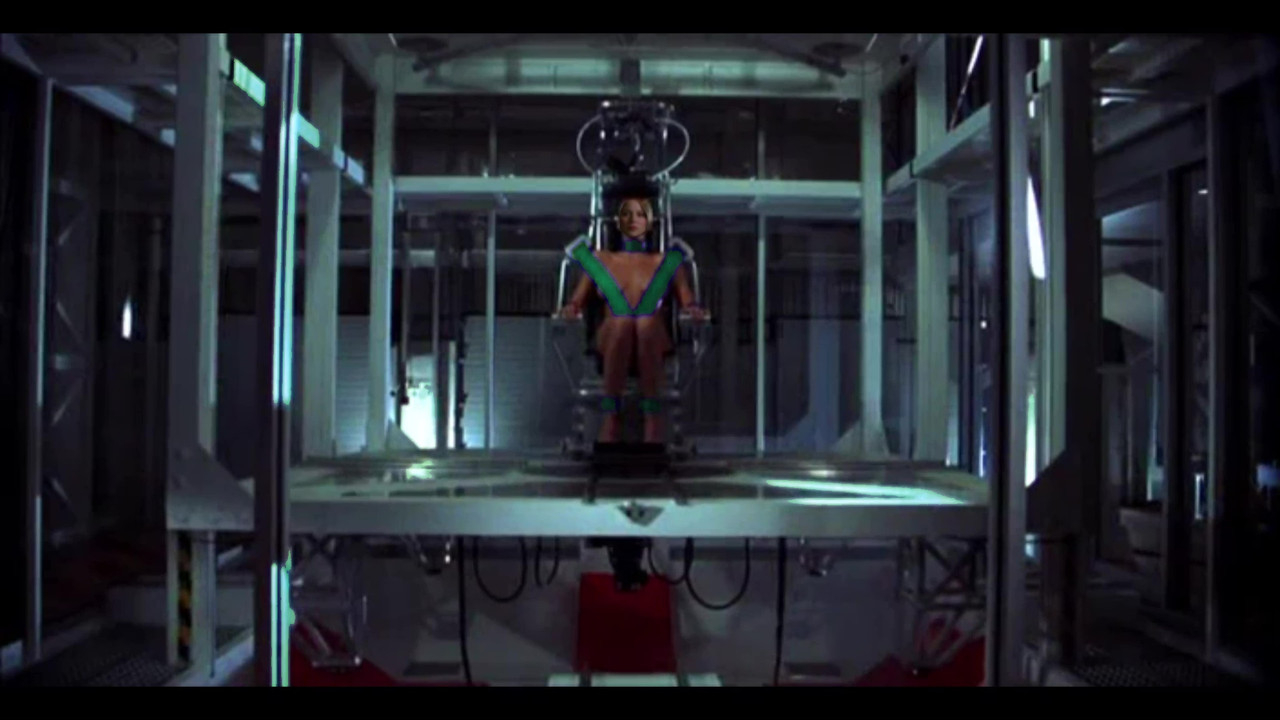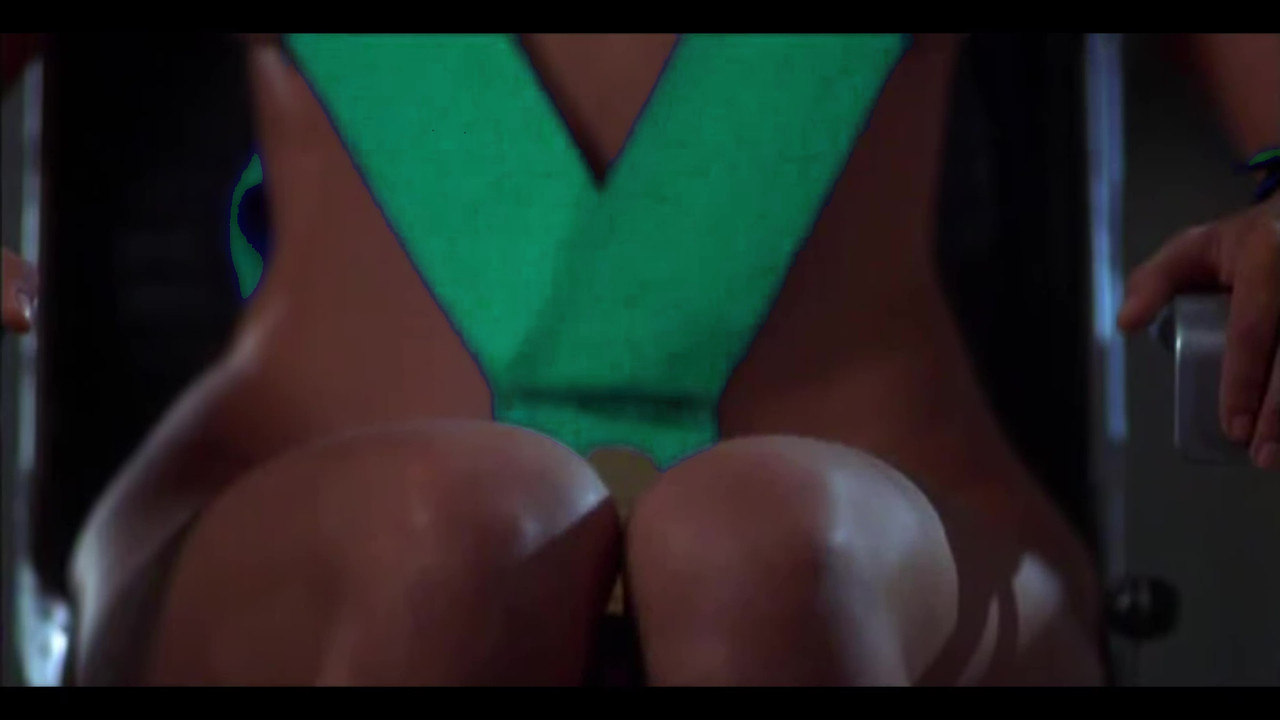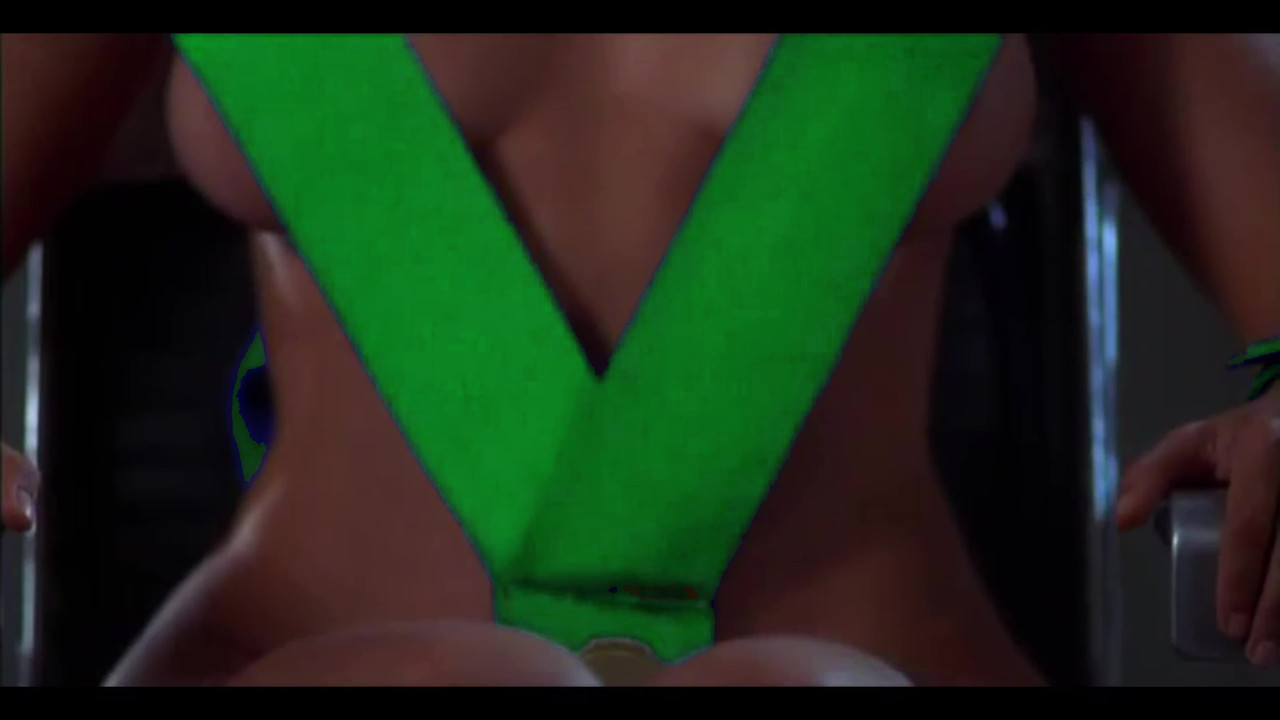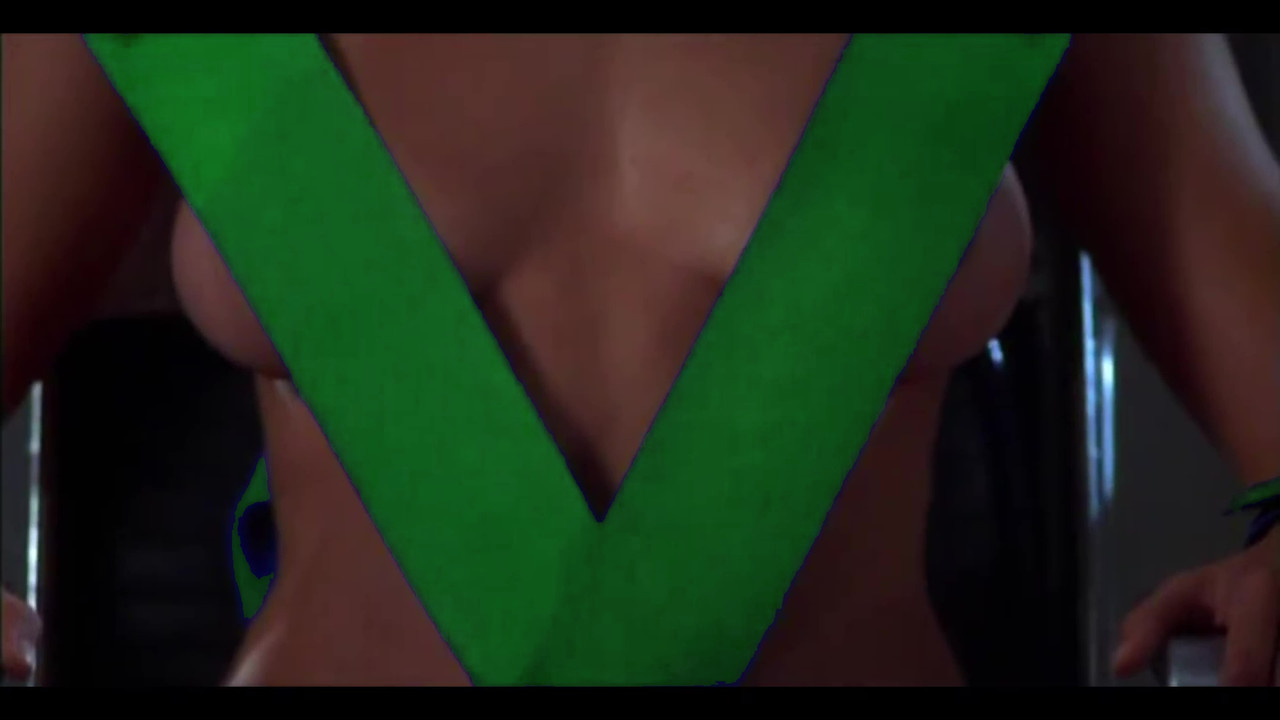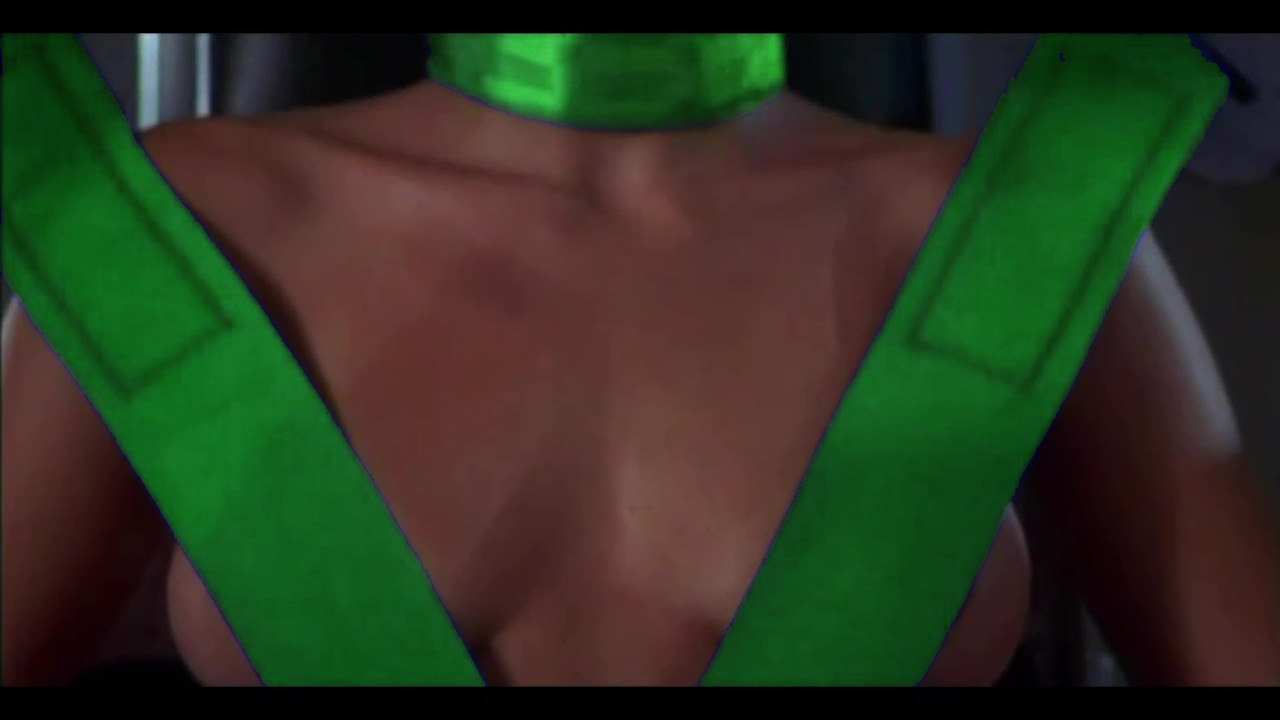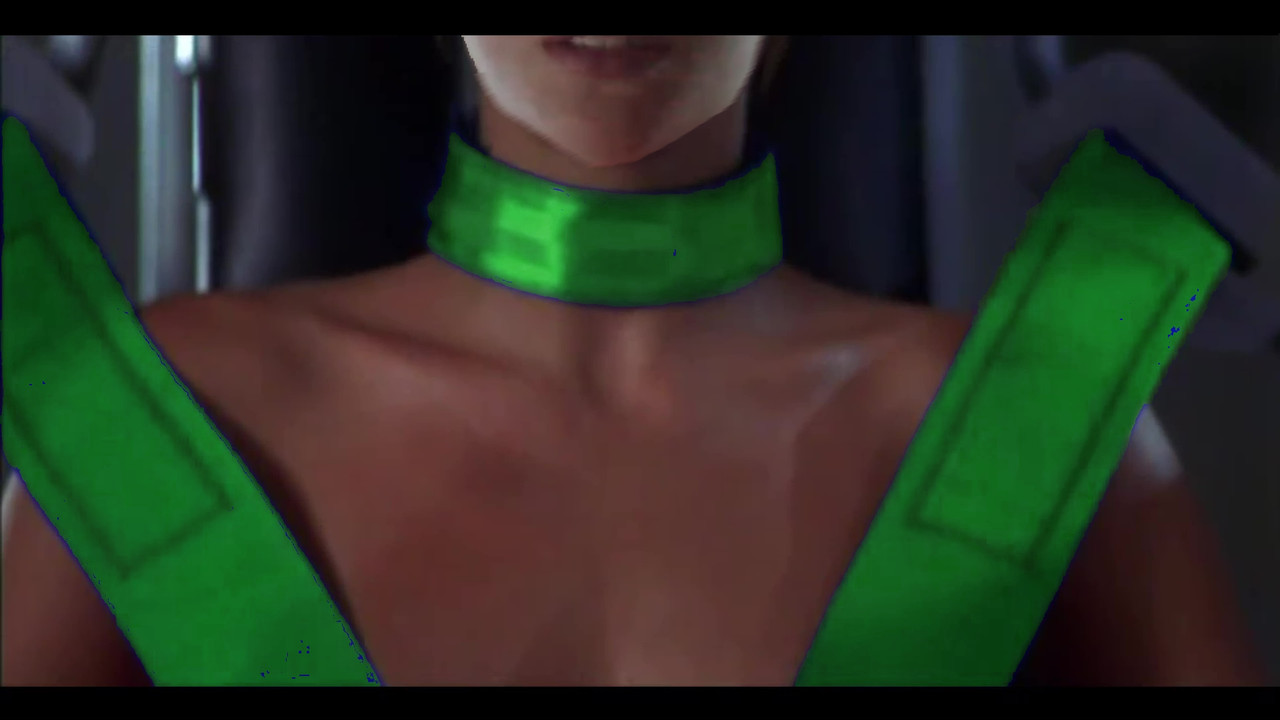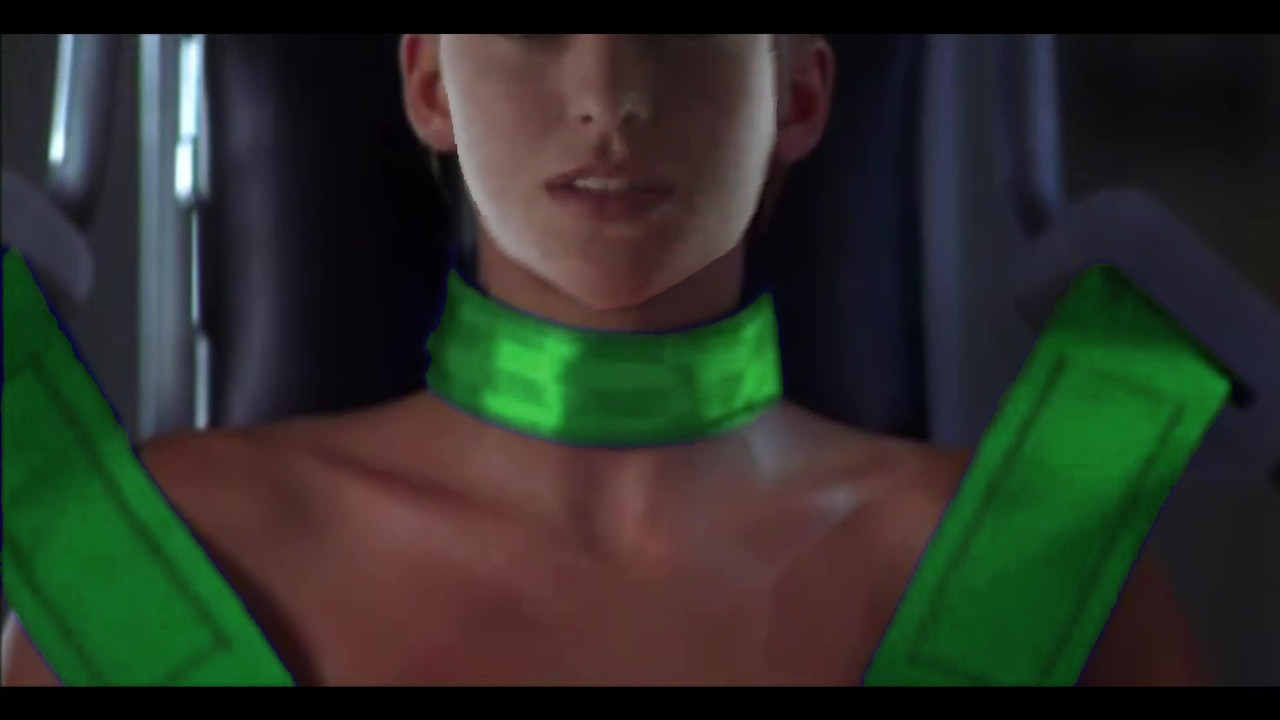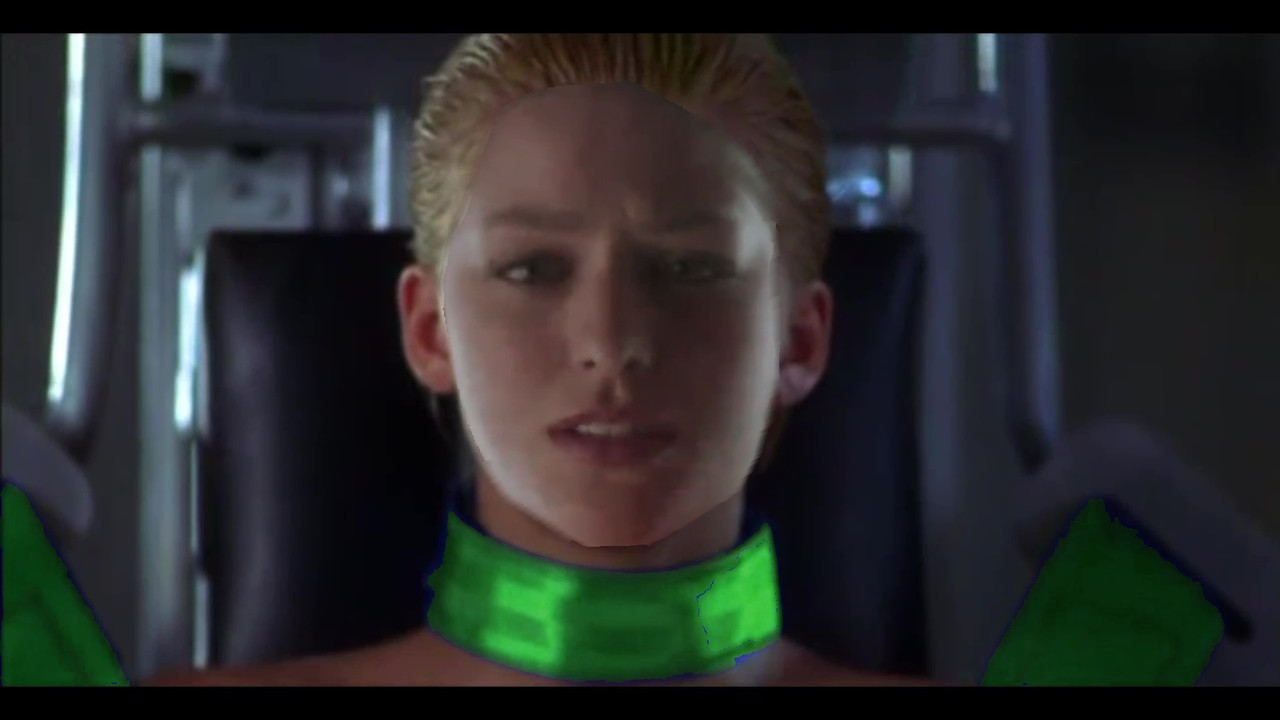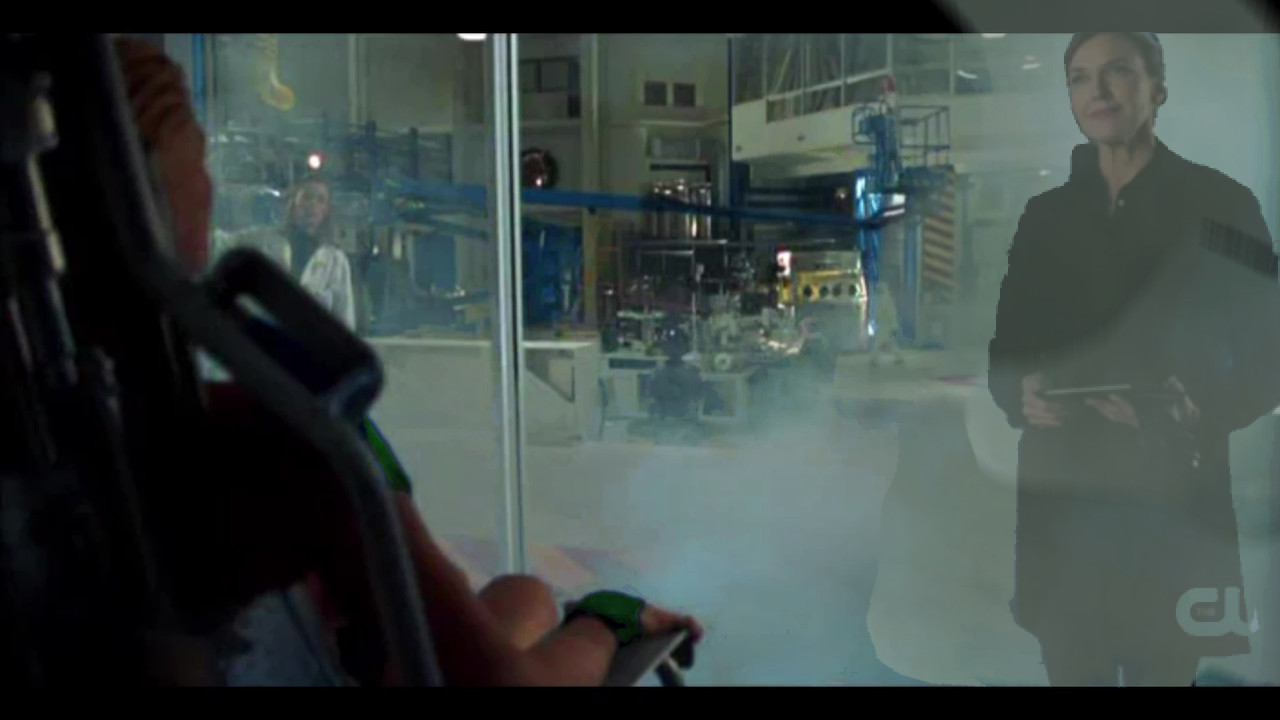 ============== DIDN'T MAKE THE CUT! ==============
When I was sounding out the idea of doing Supergirl V Luthor I played with a few visuals to see how I could make a reasonable sized story out of them. Also I was trying to find a sustainable severity of torment. It's all well being super evil for one or two frames but man - it becomes wearing when it is over and over and over again! Anyway - long story short - A-there was not enough to make this breathplay scene work as well as the one that is now in Supergirl V Luthor - and B - this was just too personal and too cruel to be part of something bigger. Enjoy the mini moment if you wish but don't stay a monster too long or you may get stuck like it!