Wild Pro Style Babes!
These two professional women wrestlers go at it with a fury, exchanging
stinging chops, reverse headlocks, scissors, surfboards, Airplane spins, and
powerful body slams! DeVille, being very ring savvy, invents new holds to
punish the brunette beauty and puts Desire in a wicked vertical split, you'll
have to see this one, giving DeVille the upper hand. 
See More>>>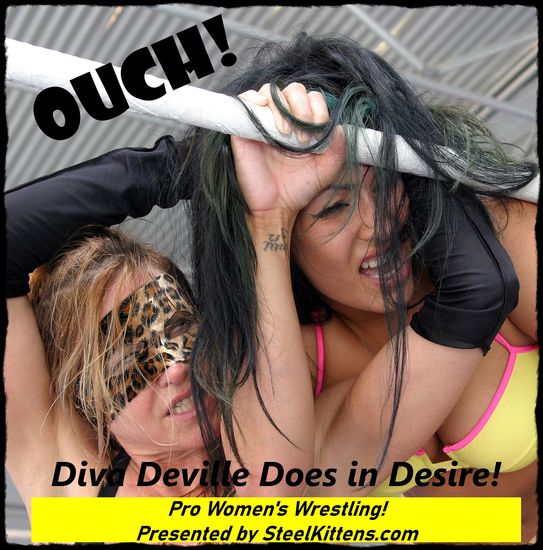 Check out Pro Style Women's Wrestling Videos!
Suck it Up! Buttercup!
She just punishes the man with stomps, surfboards, back breakers, 
bulldogs, boston and scorpion crabs and head and body scissors with 
her powerful and beautiful legs. She easily lifts and carry's him 
in an airplane spin, and then slams him hard to the mat. She 
delivers a figure four leg lock, but she won't let him give, 
not just yet. Knee breakers, rib busters, bear hug's and 
clothes lines till she feels she has had enough of her boy toy. 
She powerfully and seductively puts him in a sleeper hold 
and he slowly fades away into oblivion. 
See More>>>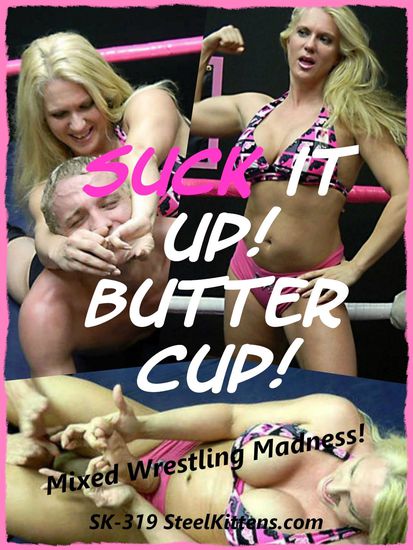 Check out More Hot Mixed Wrestling Videos!
We Have it All! Click any link below to Explore!
Female Wrestling Video
& Mixed Wrestling Video
Pro Wrestling
Classic Women's Wrestling
Vintage Ladies Wrestling
Classic Catfights
Japanese Women's Wrestling
Fantasy Fetish Wrestling
& More!
SteelKittens.com 
brings to you 1000's of Great 
Female Wrestling Videos!
BWTM!
Mixed Wrestling
, 
Women's Pro Style 
&
 Vintage & Classic's!
With a huge collection to choose from,
You're sure to find what tickles your fancy!
With a Steel Kittens Membership
you'll be able to watch everything!
Save $$$$ with a Steel Kittens Membership!
Starting at only $19.95! + Discounts on Purchases!
See Membership Options.
Quick Link to: Featured & New Releases!
Go Stright to: Full Length Streaming | Downloads!
* * Visit our Talent Pages! * *
Meet the Kittens-
Vintage Glamour Girls-
Super Stars- 
* * *Get your Discount Code!* * *
Please let us know if you need any assistance or
have any questions or comments.
We appreciate your feedback!
Contact Us
Enjoy the site!
Steel Kittens Wrestling Team